Is Betting On The XFL Championship Game Legal?
Yes. No matter where you are in the USA, some legal form of legal XFL betting is available to you. Some states have locally regulated sportsbooks that offer XFL Championship odds to their patrons. Most domestic sportsbooks require gamblers to be at least 21, but a few states are 18-friendly.
The legal XFL betting sites we prefer operate offshore, and together they accept members from all 50 US states. Placing a bet on XFL Championship odds with an international sportsbook is not illegal because there are no laws that prohibit the activity.
We've been members of the online XFL sportsbooks listed here for many years and continue to place wagers with them due to their A-grade service, fast payouts, and consistent listing of XFL odds and betting lines.
How To Bet On XFL Championship Odds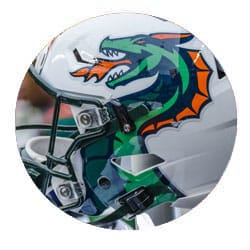 Even though the XFL Championship is just a single game, there are several ways to bet on it. The following section details the available avenues to bet on the XFL Championship Game at legal sports gambling sites.
Betting against the spread in any XFL game entails placing a wager on a team to cover the margin set by oddsmakers. Each team is handicapped by points to make the matchup even. The favored franchise usually has a spread listed in the negative, with positive spreads given to the underdog. If a team is favored to win by 6, they'll need to win by 7 to cover. If a team is a 3-point underdog, they'll need to lose by two or fewer to cover the spread. The bet is a push if a team wins or loses by the exact spread.
No matter what the sport is, the wager is all-or-nothing anytime you place a bet on moneyline odds. If the team you bet on wins, the bet wins. The moneyline odds let gamblers know how much they can win. For example, +400 delivers 4-to-1 payouts, whereas -200 odds require $2 bets to net $1. Moneylines reveal the probability each team has of winning. For instance, a +300 moneyline converts to a 25% probability of success, and a -300 equals a 75% chance of winning.
The over/under in XFL Championship betting refers to the total number of points that oddsmakers have set for the game. If the over/under is set a 49.0, then over bets will win on scores of 50+ and under bets will win if the total is 48 or less.
Anything you can bet on that isn't covered in the three categories above is considered XFL Championship props. These can be wagers on players or teams achieving stat totals, the result of the first play of the game, or anything else that happens while the XFL Championship is on TV.
Before the XFL playoffs, the eventual champion can be wagered on by betting on futures odds. Futures are released at some point during the preseason and is a list of all eight XFL teams with moneylines on their chances of winning the title. As teams are eliminated from postseason contention, they are removed from the XFL futures.  
Signing Up At An Online XFL Sportsbook
You can't bet on the XFL Championship Game unless you are a member of a legal and legitimate sportsbook site. The list of esteemed XFL betting sites we've included in this guide are the top sportsbooks on the web today, and our staff regularly places wagers with all of them.
Readers can check out any XFL sportsbook sites we mention here by clicking the provided links. Membership is not required to browse these websites, so go ahead and poke around to see what each offers.
You'll notice that there is a "join" or "join now" button at the top of any page within these legal sportsbook sites. Click it to begin signing up for a new account. New members will be required to enter personal information, create a sportsbook login, and verify the account.
Once everything is set up, the only thing stopping you from placing a bet on the XFL Championship Game is funding your account. Depositing is the next step in the process and can be completed before placing a wager or later in your account profile.
XFL Championship Game Betting Apps
Betting on the XFL Championship Game can happen on smartphones and tablets across the entire country. If your Android or Apple device (iPad, iPhone) is connected to the Internet, it can be used to bet on XFL Championship odds without downloading an application.
Using any major mobile web browser, XFL betting lines for the Championship Game can be accessed on current web-ready devices. Touchscreens fill up with lines, props, futures, and more for betting from anywhere that gamblers find themselves on the final Sunday of the XFL season.
Depositing Funds Into Your Sports Betting Account
Most gamblers prefer to make deposits using US dollars, which can be done at the top legal sports betting sites using bank wire transfers, credit cards, and debit cards. Some books also allow USD deposits using person-to-person transfer services and third-party companies.
Our favorite way to add funds to our sportsbook accounts is cryptocurrency. Bitcoin, Ethereum, Dogecoin, Cardano, and Litecoin are just a few of the altcoins accepted at the XFL betting sites we do business with.
Because crypto is unregulated, no agencies can slow down the transactions. This creates for speedy uploads that transfer securely. Most of the time, cryptocurrency uploads are eligible for more significant sportsbook bonus cash offers, which is just one more reason to consider using it over USD.
Getting Paid At XFL Betting Sites
Requesting a payout of your XFL betting winnings in US dollars can be done using person-to-person vendors, bank wires, or cashier's checks. All of these methods take longer than a day to process, and each of them adds fees to the transactions.
If you'd like to keep all the winnings you made from betting on the XFL Championship Game, consider withdrawing in cryptocurrency. There are never any fees attached, and the fastest-paying sportsbooks deliver crypto transactions within 24 hours of them being requested in most cases.
FAQs For XFL Championship Betting