Is XFL Playoff Betting Legal?
Betting on the XFL Playoffs is legal and can be done at domestic and overseas football gambling venues. Legal sports gambling can occur in the United States at offshore sportsbook sites because there are no laws that prevent them from accepting members from inside the country.
Some states permit domestic football gambling, but overseas sportsbook sites are open for XFL betting in all 50 states, plus Washington, D.C. The sites we recommend in this guide operate within international gambling districts and are regulated by industry standards.
How To Bet On XFL Playoff Games Legally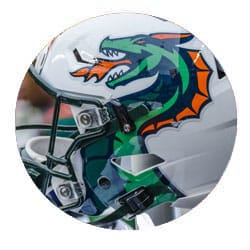 When betting on the XFL Championship game or the two XFL Playoffs games, most often, people are referring to wagering on game lines. XFL Playoff betting lines/game lines include point spreads, moneyline odds, and over/under totals. You'll find that betting on the XFL playoffs is not much different than the options available to legally bet on the NFL playoffs, place bets on the USFL playoffs, or any type of pro football post-season action.
Each XFL Playoff team is handicapped by points to create a matchup that is even. Underdogs will have points granted with positive spreads, and favored teams will have points taken away with negative spreads.
Betting on the winner of each XFL Playoff game can be done by wagering on their moneyline odds. If the team you bet on wins the game, you win the bet. The odds reveal the payout ratio and the probability of each franchise winning.
The third part of an XFL Playoff betting line is the over/under. This total is the line set for the number of points that both teams will score combined. Winning bets will be made on the correct side of the over/under.
All of the sportsbooks we list on this site offer live betting options, though the specific games that are eligible vary from site to site. Live betting features allow you to bet on various aspects of the players, team, and game results while the game is being played. There is no predetermined amount of time that in-game XFL Playoff betting lines will remain active. Some online gambling sites feature live XFL betting lines upon entry to the sportsbook, while others place them in a section labeled "Football," "Live," or "XFL."
XFL odds for outcomes that don't involve winners, spreads, or the over/under can be considered a prop bet. The most common form of XFL Playoff prop bets involve stats, but anything that happens onscreen is fair game for football odds to be created.
Because multiple contests remain, XFL parlays can be made on their two postseason games. Point spreads, moneyline odds, the over/under, and even prop bets can be included in a parlay. The more, the merrier, as additional outcomes increase the odds and the payouts.
How To Bet On XFL Playoffs Online
We've provided a list of the best online sportsbooks offering XFL odds for the playoffs. Signing up as a member is the only thing stopping readers from placing an XFL Playoff bet.
It is also a good idea to sign up with more than one XFL sportsbook so that gamblers can browse around and bet on the odds that line up the best with their personal projections.
To join up at our recommended XFL betting sites, click on any sportsbook link provided here and then press the join button at the top of any page on their website. Create a sportsbook login, enter the requested information, and verify your account.
Your membership is created, but XFL bets can only be placed once accounts are funded. Deposit some money into your online bankroll and then click on the sportsbook section of the gambling site. Gamblers can then click on the XFL or Football subsection to access the XFL Playoff betting lines and futures.
Mobile Betting On XFL Playoff Odds
Apple and Android smartphones and tablets connected to the web via Wi-Fi or cell can pull up any of our preferred XFL betting sites and place a playoff wager from anywhere they like. XFL betting apps don't require a download, as our top sportsbooks only need a mobile browser like Opera, Safari, Google, Chrome, and more.
iPhones, iPads, and Androids can be used to click any of the XFL Playoffs betting sites we list here to gamble on pro football legally from inside all US states. All screen sizes are supported, with touch-button controls that operate like a downloadable gambling app.
Making A Deposit Into Your XFL Betting Account
Each of the sportsbooks that we recommend for betting on the XFL Playoffs offers a slightly different portfolio of account funding options. Here is an example of what XFL gamblers can expect to find when browsing our top legal football betting sites.
Credit Cards, Debit Cards, Person-To-Person Transfer Companies, Bank Wires, Cryptocurrency (Bitcoin, Bitcoin Cash, Ethereum, Litecoin, Tether, Cardano, Dogecoin, and more)
Most US Dollar deposit methods include added fees, whereas cryptocurrency transactions are cost-free. Bitcoin deposits are often eligible for sportsbook promo codes that deliver significantly more betting cash than when using traditional methods like credit and debit cards.
Withdrawing Your XFL Playoff Winnings
Credit and debit cards cannot be used as a method of getting paid via chargebacks, making cashier's checks, bank wires, and P2P vendors as the best option for making a withdrawal in USD. Most traditional payout methods incur extra fees.
Cryptocurrency withdrawals have no fees attached and can be completed within the same day they were requested from the XFL sportsbook. Crypto withdrawals can be requested more frequently and at higher dollar volumes.
Here are the most common payout methods seen at XFL betting sites.
Bank Wires, Cashier's Checks, P2P, Cryptocurrency
Legal XFL Playoff Betting FAQs